I've always been one for a bargain, so when I see an offer that's clearly too good to be true on somewhere like facebook, I'm a sucker, and I just have to have it. Well, that's a complete lie. This is the first of these I've ever done, but who knows? Maybe there'll be more. I doubt it.
Before anyone complains I'm jumping on some type of sponsorship bandwagon, I'm not. In fact, I'm not even going to name the site I got this from. Nobody gets free adverts from me. I'll tell you, but only if you're really interested.
Right, so, onto this free mouse then. Way back on 6th December I saw a post on Facey B for a free mouse. Just pay shipping from the US to the UK, all of $9.99. OK, it wasn't free, I'd never heard of this website, I'd signed up to it using my "spam name", I'd accidentally got my address wrong while ordering, and the site was saying that due to the amount of orders, it could take 3-5 weeks. Oh, well, this is going to turn up then, isn't it?
I'd genuinely forgotten about it, but exactly 4 weeks to the day since I ordered it, there was a knock on the solid oak doors of Mercuryvapour Towers, and a parcel from Taiwan. A very flimsy package, consisting of a plastic bag, a zip-lock bag, some bubble wrap and the mouse. I'd show you the packaging, but I've lobbed it, but I was very, very surprised that it made it here in one piece.
Upon first inspection, it didn't feel too bad It's covered almost entirely in that "soft-feel" stuff, except for the part where your thumb goes, that's just normal dimpled plastic. There seems to be some type of scribbled circuit design with a swirl in the middle, and the letters "JWFY". The cable is braided red and black, but nothing special.
What does it look like when plugged in?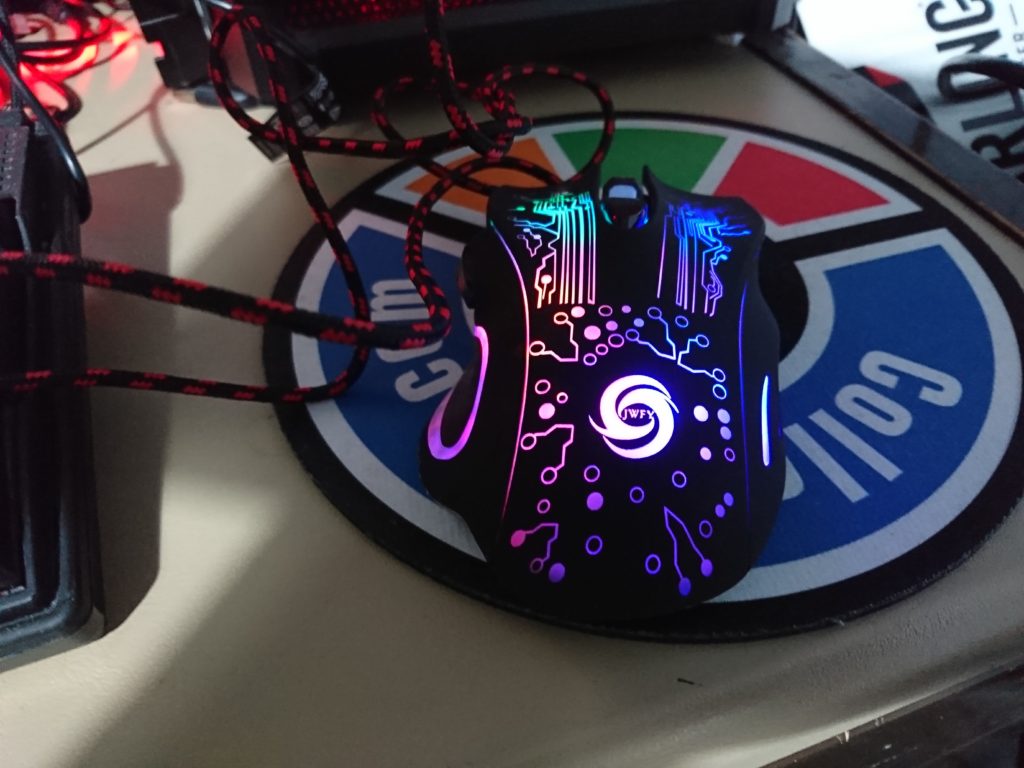 A mouse of many colours. I've never been a fan of LED-for-the-sake-of-it. RGB gaming and all of that type of crap can go suck a bag of disks. An LED simply for decoration is a waste of the world's finite resources. I long for the days of beige keyboards, and beige PCs, where they're heard, and never seen. Now they're silent disco-balls, and the peripherals are no different.
The mouse is no exception. I'm not going to break it open, but I'd guess there's 4 RGB LEDs in there, cycling infinitely through a range of colours. The underside is, as you'd expect… plain, with no model number or similar, just a patent number…
Onto the big question… how does it feel? Actually, not too bad. It moves nicely on a mouse pad. The usual features you'd expect from a gaming mouse are present. Backwards + Forwards browser buttons, mouse sensitivity button.
There's one thing, after an hour of use, that is stopping me from liking this (and the fact I already have a gaming mouse that's not near as garish as this), and its the mouse buttons. I have small hands, with short stumpy fingers, so this is less of a problem for me, but if you have long fingers, this mouse will give you PAIN. The ends of the buttons are incredibly sharp.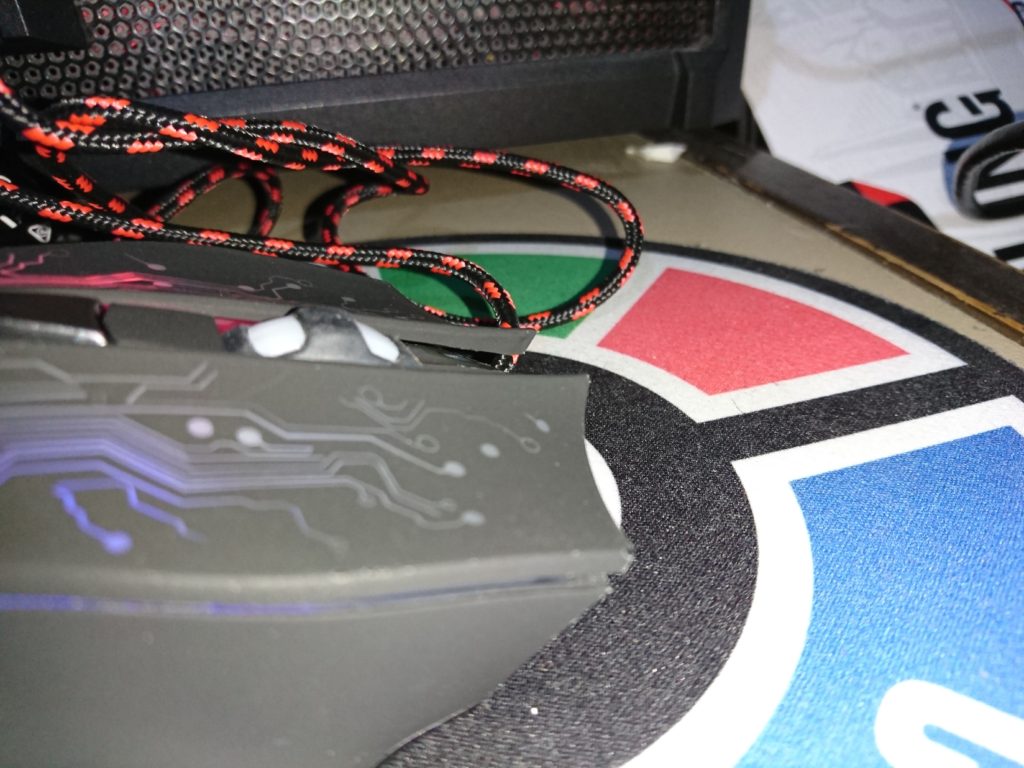 The photo doesn't quite do justice how bad these are, but honestly, you'll need to take a file to those bad lads before using it for any period of time. I just caught it while typing that last sentence and had to look to see if I drew blood. Makes me wonder about the legality of the safety marks on the underside of this thing. I mentioned the flimsy packaging it came in. After feeling those buttons, I'm surprised it never cut straight through it.
OVerall, this is a *really* entry level gaming mouse. The free promotion for these has ended, and the site is selling them for $15. they have another design of "free" mouse still available, but you can almost guarantee it'll be the same circuit board in a slightly different case. For those of you who know which site I'm talking about and are still waiting on their mice, you will eventually get it.
Oh, and a quick thing about the "Spam Name"… If you sign up for a promotion that offers you free stuff, and you think the company are going to sell your details (no company gives something away for nothing!), just change your name slightly when signing up. I call myself "Jay". That way, if you ever receive anything with that name, and it's not your "freebie", it can go straight in the bin without being opened!