Ahh, this takes me back. It's funny that Chad (aka Randy Lahey in the recent comments) mentioned my very first bike, which was amusingly titled the Bangermobile. Therefore, I shall reminisce a little about said bike.
Actually, if you want to split hairs, The Bangermobile was NOT my first bike, though it was the first one I actually used. Many years ago, my parents bought me a white BMX bike (not the one I mentioned in the previous post) out of the paper. The only problem is, it was huge, and I was tiny. Therefore, I never, ever rode it. It just gathered dust and cobwebs in the washhouse for about 2 years. I hoped I'd grow into it, but I was about 6 at the time, and I'd need to have waited until I was 14 before I'd have been able to get on it without someone's assistance.
I was frustrated, I knew I had a bike. I wish I was big enough to have taken it out. Eventually, I got bored of waiting, and lost interest. I was about 8 at the time. Suddenly, unknown to me the bike disappeared entirely. The story, as far as I know it, is that my Uncle Jimmy took it to the bike shop up King Oswy, and swapped it for a bike which was more my size. The result was a plain purple coloured pushbike with racing handles on it, shown below…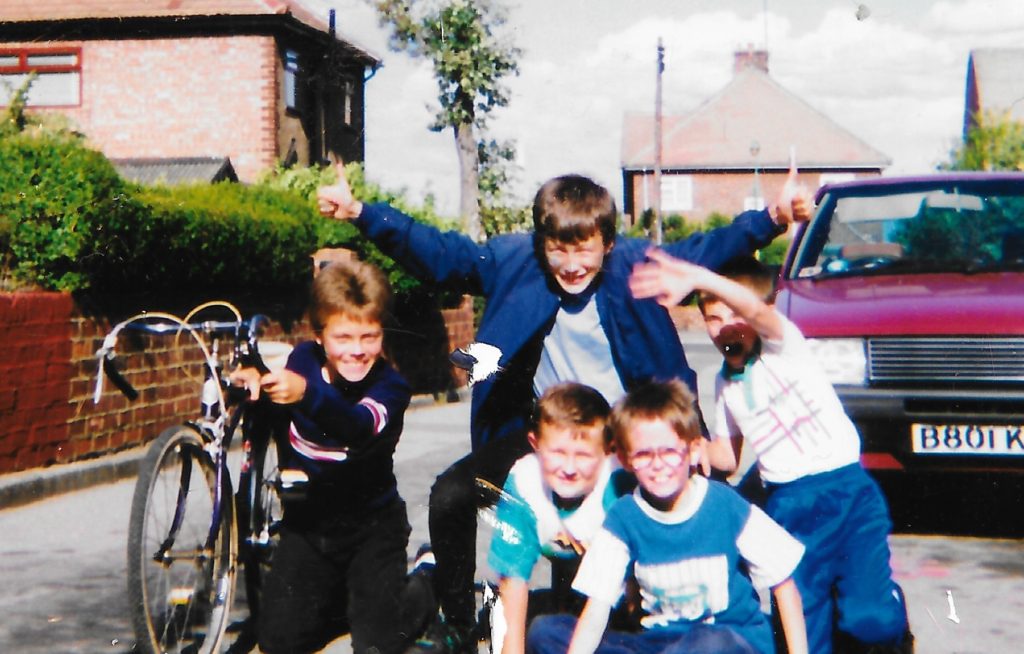 (Rescanned the image in 2016 to make it less blurry)
Over time, I found the racing handles a little hard to use, therefore they were replaced with standard handlebars which looked like they may have came from one of those little trolleys old people pull behind them. I didn't mind. The bangermobile was mine, and no matter how much the other kids in the photo mocked me, I didn't care, I could finally join in with their races, etc. That is, as long as they didn't go beyond the end of the square. For the record, Chad is the lad at the back with his thumbs in the air.
I loved that bike. I could finally join in when everyone else got their bikes, building ramps in the square and jumping over certain objects, though I seem to remember falling off more times than enough.
I have no idea what stopped me from using the Bangermobile, possibly a puncture, possibly the fact you used to be able to turn the handlebars without the wheels turning, possibly a horrific fall which I've subconciously blocked from my mind and now cannot remember.
Either way, if bikes were dragons, the Bangermobile would be called Puff. Purple things and rusted rings made way for other toys. The bangermobile slowly slunk into its cave, located behind my dad's shed. Well, it wasn't a cave, I just said that so it fitted in with the song. In fact, it was (and still is) a completely useless piece of the back garden, which has always been covered in weeds.
Some time later (at least a couple of years), the Bangermobile was discovered by me and whatever friends I was with at the time. We decided it would be great to see it back from the dead, and attempted to repair it. Unfortunately, these attempts proved to be fruitless, when after repairing the tyres about 5 times, getting them pumped up at the Shell garage, only for the air to escape 5 seconds later, it was decided that the life of the Bangermobile was at an end. I'm not sure what happened to it after that. I was too old to care. We probably smashed it up.
It's not all bad news. Remember those handlebars I didn't like? The ones in the above picture? Well, they're still with us. They now act as a handrail in our (mainly disused for 10 years) downstairs toilet…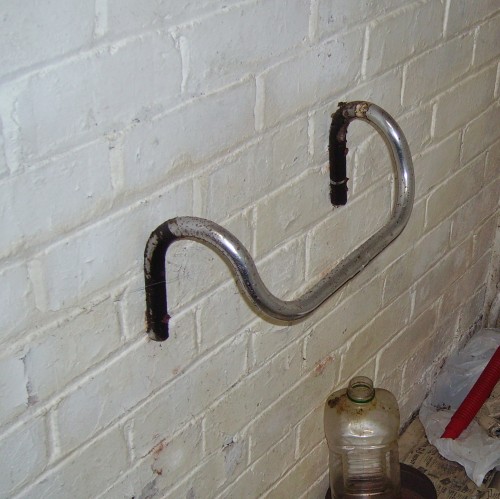 I went out on my new bike again, just for something to do while the sun was shining. Imagine my delight when the front reflector fell off and went hurtling down the road to the side of me. I'm going to replace them with lights at some point anyway, so that's not a problem, but why did it have to make me look like a cock in the first place, having to stop and pick it up? Someone was walking past at the time, I bet she had a good giggle. Sob.