If you couldn't tell, that subject is supposed to be the sound of my internet connection initializing itself, and bringing me back from the dark ages before the internet became an integral part of my life… it has been an awful few days without it. A couple of readers may want to know what happened, especially as this caused the house phone to also go down. If you don't, that's fine.
They day is Tuesday, November 09th, 2010. I'm sat in the pub, celebrating the win of £15 on the pub's version of "Play Your Cards Right". I feel my phone vibrating, as if to say I've received an email. Indeed, I had. It was informing me that one of the websites I host on my home connection had gone offline. Oh well, shit happens, and I continue to pour my winnings down my neck. I'd sort it when I get home.
Later on in the evening, I get a lift home from Chris's dad, and I notice one of the cable companies' vans attending to one of the boxes a few streets from Mercuryvapour Towers. Well, that was the problem, and surely the interwebs shall start flowing like beer from a keg. Several hours later, and still no internet, I hit the sack, expecting everything to be rectified in the morning.
I awake, and inspect the modem's diagnostic lights. Still nothing. Still dead. Daddykins had to go out on Wednesday morning to run an errand. He phoned me to inform me that there were 4 vans around the box where our connection fed into. It did seem a bit odd to have that many vans attending to what I thought was a simple fault with the box. I don some clothes, and head off to the shops. This was also so I could have a quick look at what was going on. I walked past, and noticed that the workmen had removed the entire guts of the cabinet At this point, I didn't actually know the reason why they removed it.
Later on in the afternoon, I went out to grab the local paper, and also to attempt to get a photo of the affected cabinet.
At this point, I didn't actually know what had happened. It wasn't until I got back inside and took a closer look at the photo that I noticed something… the privet around the top of the cabinet was burnt…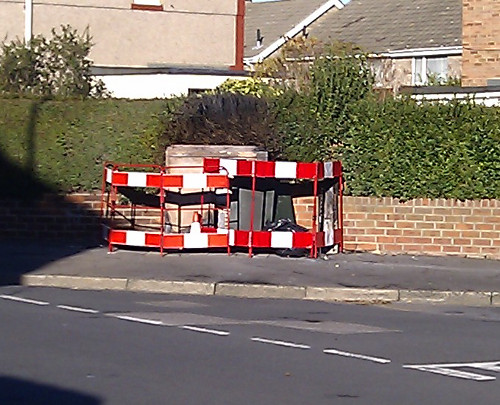 It turned out that the issue was caused by a catastrophic failure in the cabinet's electrics that caused it to burst into flames. Unfortunately, the particular cabinet was out of range of the windowcam, though you do see the fence over the road reflecting some of the fire's light, a load of smoke, and a fire engine attend the scene some 6 minutes later. I'd do a timelapse, but I can't be arsed.
If it wasn't for my mobile, there is a very strong chance I could have went insane.