It appears that some people actually DO want to read about my purchasing of records. No, I can't believe it either. Some of you may know that a week or two ago, I was lucky enough to visit the town of Barnsley. It all started because Daddykins wanted to buy some "radio equipment" and asked if I fancied a run down. Of course, the answer to this was yes, on one condition, I'd get to spend some time scurrying around the charity shops like a rat in a sewer, while he does what he needs to do, and then sits in the car, miserable as sin.
Seeing as Daddykins drives like Miss Daisy these days, the journey there hardly gets fast enough to get interesting. On the way down, he was talking to a DJ who used to work on TFM called Gary. Never found out his surname. That really was as exciting as the journey there got. I did enjoy it though, as it's not very often I listen to Radio 2, but when I do, they usually have good music on. And by that, I mean old shite.
Naturally, before the jorney began, I'd hunted down some charity shops, so I'd have some knowledge of where I'm going. Google Maps did its job, and directed us to the shop he needed to go to, and also how I'd waste some of my time. Hurrah. It's not often I get to visit a town on my own without someone else whinging over my shoulder at how bored they are, so I was going to make the most of it. I even considered turning my phone off, but Daddykins was going to ring me when he was done, and as I didn't fancy a train home from a town I'm not familiar with, I kept it on.
I left Daddykins to do what he needed to do, and I added in the general direction of the shop I'd spied. It took me through a shopping centre, of whose name escapes me. Alambra? There's possibly a H in there somewhere, but seeing as I have no regular readers in Barnsley (as far as I know), that will probably remain a mystery.
My internal Charity Shop GPS kicked in, and I was soon near the shop I'd spied from the road, but first a dive into a previously undiscovered "Age UK". I'd picked up a few CD singles. The guy who served me almost creamed his pantaloons at the site of "You Do Something To Me" by Paul Weller. Admittedly, a nice find, but it was a bit scratched, and the case had seen better days. Same with the 1996 version of "big River" by Jimmy Nail. I've yet to play it, so I have no idea what the difference between this and the 1995 version are.
Onto Sense. This was the one I'd spied from the road, and, sadly, most of its CDs came from the awful feature that some charity shops have, of getting "replay" CDs. It's usually exactly the same stock you see in Poundland, but for twice the price (£2 then – Ed.) Yes, precisely. If it comes pre-wrapped in cellophane, it doesn't belong in a charity shop. There, rant over.
I did manage to score the theme to "The Wind In The Willows" on 7″, sung by Ralph McTell, for 75p. I have very hazy recollections of the show as a kid, so this was a nice find.
Those were the charity shops I'd known about, out of the way. the rest of the day would be a complete guess, except for a "Cash Generator" I'd spied on Google Maps, so I'd headed in the general direction of where I thought it was. Eventually, I'd found it. A complete waste of a walk. Quite a few DVDs, about 6 LPs and no CDs. Bugger again.
Slightly dejected, I headed back towards the shopping centre, as I'm sure Daddykins would be contacting me soon. I checked my phone. 3 texts saying he was ready. Whoops.
I rang him back, just as I'd hit a "rich vein" of charity shops, but there were about 5 in a row. The conversation went something like this…
"Yeah, I'm nearly done, I'll just check this shop out, and oh, hello!"
I'd walked into "Cancer Research", and my eyes darted over to shelves full of 7″ singles apparently in great condition, aaaaaand, at about £3 a pop, my heart sank. What didn't make it any better was the fact they were CRAMMED into the shelves, making browsing pretty much impossible. Plus, there was some old guy who seemed to be persistent in holding the best position in front of these records. I abandoned them. I have many thoughts on charity shops that don't know how to price records.
There were a couple of other shops I checked out. I could have picked up an original 1987 pressing of Kylie Minogue's first album on CD, but I already have it, so decided to save the 33p. This was the last weekend before pay day, so I really was watching the pennies. Admittedly, it was another shop with a wacky pricing structure.
I phoned Daddykins, saying I was on the way back. He'd happened to be speaking to the guys in the shop where he was at, who said there was an antiques centre just over the road from where he was parked, and that it was a decent pace for records. I was intrigued, but knowing about these type of places, I had a feeling the records would have been overpriced, and pretty much scrap. the weather had dried up by this point, so I'd dropped the small collection of records I'd collected, and bribed a look around the afore-mentioned shop by presenting Daddykins with the last bite of a sausage roll and a bottle of coke. It did the trick, but I promised I'd be straight out if they weren't up to my pricing grade or quality standard.
They were, and I admit I'd felt a little guilty as I had a proper rummage in the crates. First one out was the 12″ of "For America" by Red Box. A song I don't expect anyone reading this to know, but yes, I like it.
then came the find of the day. For years, my friends know I collect crap music, and have suggested titles that I've somehow eventually tracked down. One had evaded me. A piece of plastic so deplorably cheap that they could only print the cover in black and white. A truly disgusting specimen that would probably survive a nuclear holocaust, along with Formica and cockroaches.
I've yet to play it. Instead, I'm saving it for a special edition of "I Bet You Don't Like This". I'm aware it's on Youtube, but actually playing a physical copy of it is much worse.
So, we left Barnsley, in pretty much the same state we found it, minus several records and a piece of radio equipment. Daddykins decided to head towards Doncaster on the way out, as it's apparently easier to get home, or something. It's a change of scenery from the way down, so nothing wrong there.
Except for when we happened to pass under a tree, just as the branch became detached. THUD. I do try to keep my expletives under control around Daddykins, but even I couldn't help but let out a "Fucking hell!" A split second earlier and it had went through the windscreen.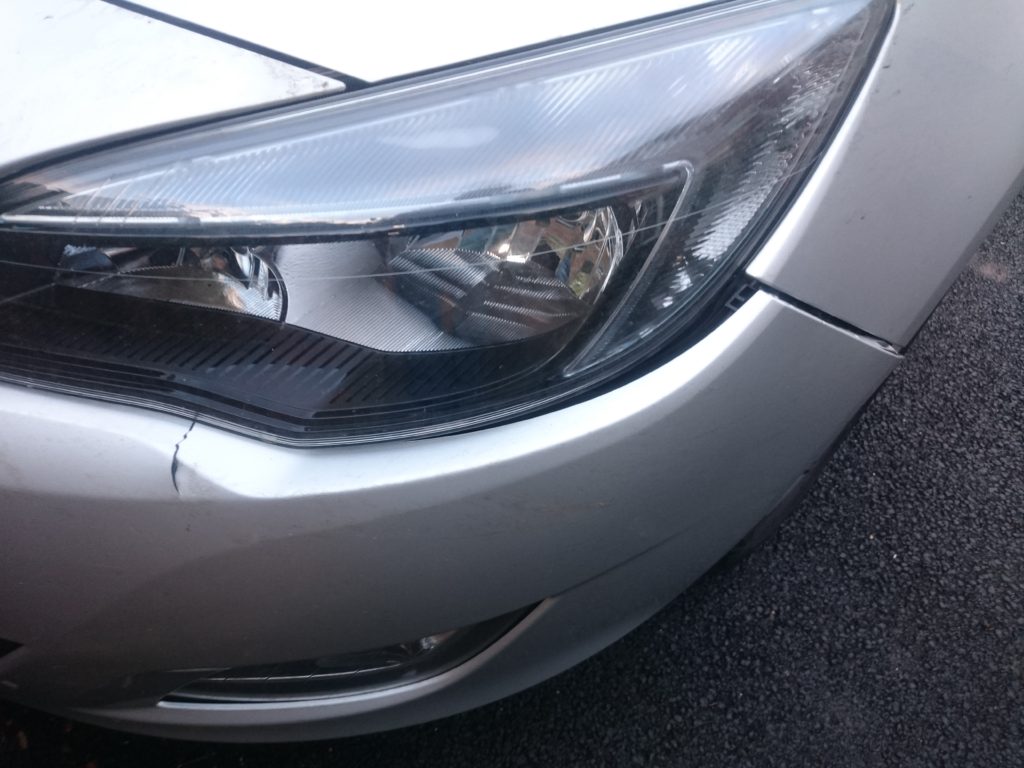 Although it doesn't look like much, apparently, it's not a cheap fix, as although the bumper popped right back in place, it's also knocked the headlight out of place, broke the clips, and oh god, we should have just got the bloody thing delivered….