The day was Tuesday, and I was awoken by the sound of the building site directly outside of the hotel. it was 7:30. I was less than pleased. Still, it gave me the chance to view exactly what the place looked like in the daytime.
Well, apart from the mass of mud and machinery, it's not too bad. the River Spree is the stretch of water in the background, and the row of cafes and bars behind it were where most of our Euros went. I'll mention more about these as the days go on, as we didn't venture down this way on the first couple of days.
At approximately 10:30, it was time to find breakfast. Not easy in a place you dont know too well. The plan was to head northerly up Friedrichstrasse (the long street the hotel sat on), and hope we come across some kind of shop.
Within seconds, my dream came true. There was an indian no more than 100 yards from the hotel. I almost dropped to my knees in floods of happiness. Even better, we found what looked like an Irish bar too. So, that was the night sorted, and my food sorted for the week. Grub at the indian, along to the Irish bar to drink. Hurrah!
We kept walking, and eventually came across a little internet cafe, though I decided not to use the internet. Chris and Jonathan, however, opted for a sarnie and a cuppa, and I enjoyed a bottle of coke I'd bought earlier on, though it does taste different over there.
So, the sarnies were eaten, and we carry on with our exploration of the city. At this point, there was no particular plan to the journey, so we picked a direction, and continued walking. According to Google Earth, we were heading along Oranienburger Strasse. This seemed to be the old part of East Berlin, with many old tall buildings. Clearly, it was my first chance to appear in a photo in Berlin….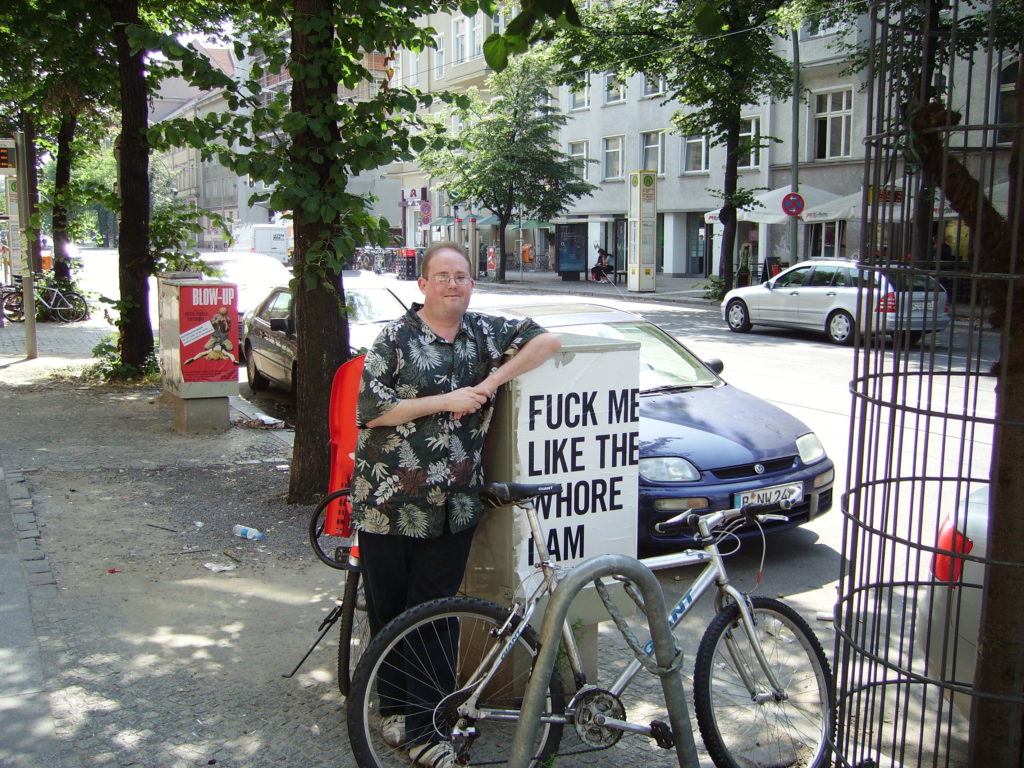 As we didn't have a clue where we were, and found these posters rather odd, we reached a landmark (a railway bridge) and headed back. We noticed that street also had a lot of nice looking bars and eateries on there too, so we decided we'd also visit there later too.
One thing that became clear, however, is that we were not going to make it far in the blistering heat. Seemed that every few minutes, we were stopping off for drinks, which were small and ludicrously expensive.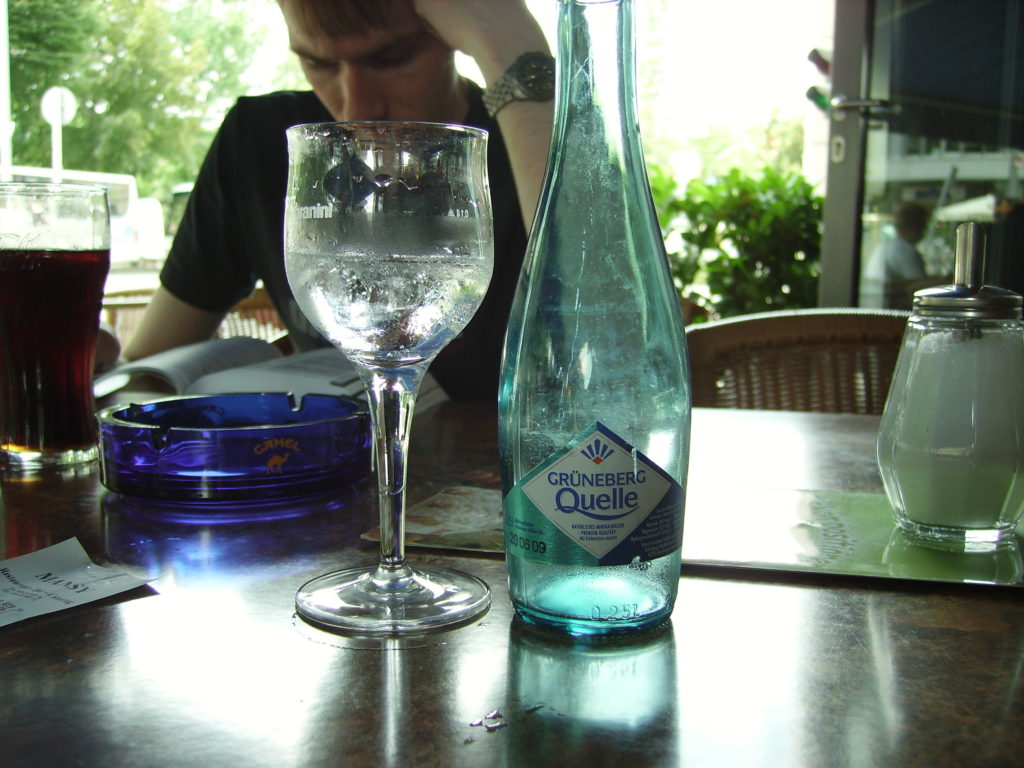 I think that bottle of water cost me 2 euros. Bah.
They say that mad dogs and Englishmen go out in the midday sun. But only Englishmen go out in the midday sun, walk into a random chemist and buy a bottle of suncream for €13.50… which is exactly what I did. Or rather, Chris went in and bought it for me. I gave him a tenner. My jaw *dropped* when he came out asking for more money. Still, at least it was a worthy purchase.
On the previous night, I failed to mention that after we arrived, we had a very short walk around outside the hotel, and noticed that during the day, there were bus tours which took you round Berlin. This was going to be our next activity.
The bus trip cost €20, which seemed like a lot, but the ticket lasted for the full day, which meant we could get off at any of the stops, and look around. The guide was provided by a pair of headphones mounted in the seat, and a button on the seat itself where you could choose the language. Amusingly, the only place we stopped off was the main train station, or the Hauptbahnhoff. At least I think that's how you spell it. The main reason we stopped off, however, is that I'd noticed some sand sculptures, which seemed interesting.
As can clearly be seen by that, I didn't take my main camera on this trip, instead I opted for my camcorder. Disastrously, the battery didn't last more than 20 minutes of filming, as I kept forgetting to turn it off. Therefore, it was up to my trusty cameraphone to catch most of the photos. Due to the fact the headphones attached to my seat were broken, I don't really have much of an idea what I was taking photos of, though there were some impressive buildings, such as this brick towerblock.
So, with the trip completed, we had a little more idea of what was on offer, and the best places to see. And, the fact they were all pretty much in the vacinity of the hotel.
We decided to complete our full day in the land of Sauerkraut by getting ready and going out for something proper to eat. And where did we go? Well, would you believe it, we ended up in the indian. Hurrah! Now, something I was surprised about was that the majority of the food places have most of their seating outside. This was certainly a new experience for me. So, we were sat down, in wicker chairs, under large parasols advertising some kind of German Pilsner. We ordered food, and didn't have to wait too long for it to arrive. While we were eating, a red squirrel scurried across the floor next to us. That was odd. Not only was this the first time I'd seen a squirrel close up, it was a red one too. These are rare as fook here in England, so it was a nice and welcome surprise.
The food was magnificent. Large portions, good rice, nice soft naan breads. It was better than most places at home, and it wasn't too spicy.
After the food was pouched, it was time to go out and experience some German beer. Of course, we couldn't resist a stroll into the Irish bar, seeing as it was only a few metres away from the indian. Strangely enough, drink-wise, this happened to be the low point of the trip. I got a pint of Fosters (well, 500ml of Fosters) which was warm, and tasted like a mixture of cider and wine, and Chris and Jonathan got a pint of Newky Brown, which tasted equally as bad. After 1 drink, we simply couldn't stay there any more.
We returned down the same route we'd taken on the morning, in order to check some of the bars they had on offer… we found this little place with a courtyard. It was rather empty, and rather nice. Pils flowed like water, despite it being expensive. I think it was €4 for 500ml…
Suddenly, the poster I was leaning against in the earlier picture made perfect sense – we were walking down the red light district. It's funny how the majority of them asked if we wanted a good time in perfect English, as if they could tell just by looking at us. We refused, and kept walking to the final bar of the evening. a mock American diner… now, I'm sure if any of us at this point had actually been sober, we'd have enjoyed it, but all the barman (who wasn't German either) wanted to talk about was football. Ergh.
What I remember more than anything about this place was the "bar" itself. It was apparently made from some kind of translucent resin, with fluorescent tubes underneath it. The heat from the tubes, combined with the years of drinks spilled on it, caused your arms, glass and everything that touched it, to stick to the bar.
None of us fancied a conversation about football, so we made our excuses and left. Quickly. We, once again, had to head through the red light district on the way back to the hotel.
Something which I failed to mention is that whilst at the train station, Chris bought two 1 litre cans of lager, one of which he gave me. I enjoyed immensely. I attempted to go to sleep, listening to a radio station on my mobile – BRF 91.4 . The first song I heard was Mike Oldfield's "Shadow On The Wall". I'd never heard this played on the radio before. I was delighted.
After listening to some classic songs, I rolled over, and went to sleep. Day 3 was only a few hours away.