Judging by the lack of comments on the last few posts, I guess that by this point, I've completely bored you all to death with my ramblings of travelling to a far-flung land. Normal service will be resumed my the end of this post. You'll all be reading again about how much I hate work, how much I like streetlights, how much curry I've eaten, and how much of it flies out of my bowels at a shocking rate of knots. I bet you can't wait. In fact, I'll even try to cover all of them in this post.
So, anyway, it was a sunday. I awoke to see the worst weather in the whole of my time there. The building site across the road from the hotel was one big puddle. It wasn't a nice day. Now, you'll remember my 72-hour ticket? Well, it was used up…. and there was no point getting a travel ticket for just one day. by the time we'd got ready, the rain hadn't let up at all… it was still lashing down.
On our way out of the door to begin the last day, Chris asked the guy behind the reception desk if they had any umbrellas. But they didn't. The hotel was "all out of umbrellas". I did, however, successfully manage to order a taxi, to pick us up from the hotel the following morning. Or rather, I just asked the guy behind the reception desk to do it for me.
We decided to give the outdoor cafes a miss, and instead headed off to a Starbucks nearby. I can't see the fascination with coffee, personally, so I settled for a croissant and a bottle of water. Chris also had a croissant, and some fruit smoothie thing which just looked odd. As we weren't going to travel around much, we decided to stay in the vacinity. The tour guide Jonathan had picked up from the hotel showed some good museums, and Chris remembered a few places he wanted to see from that very first bus trip, all of them were in the same general direction…
By the time we'd finished eating and drinking, it was getting a little bit brighter… the rain had stopped, and the place was drying out nicely. Chris wanted a closer look at this building…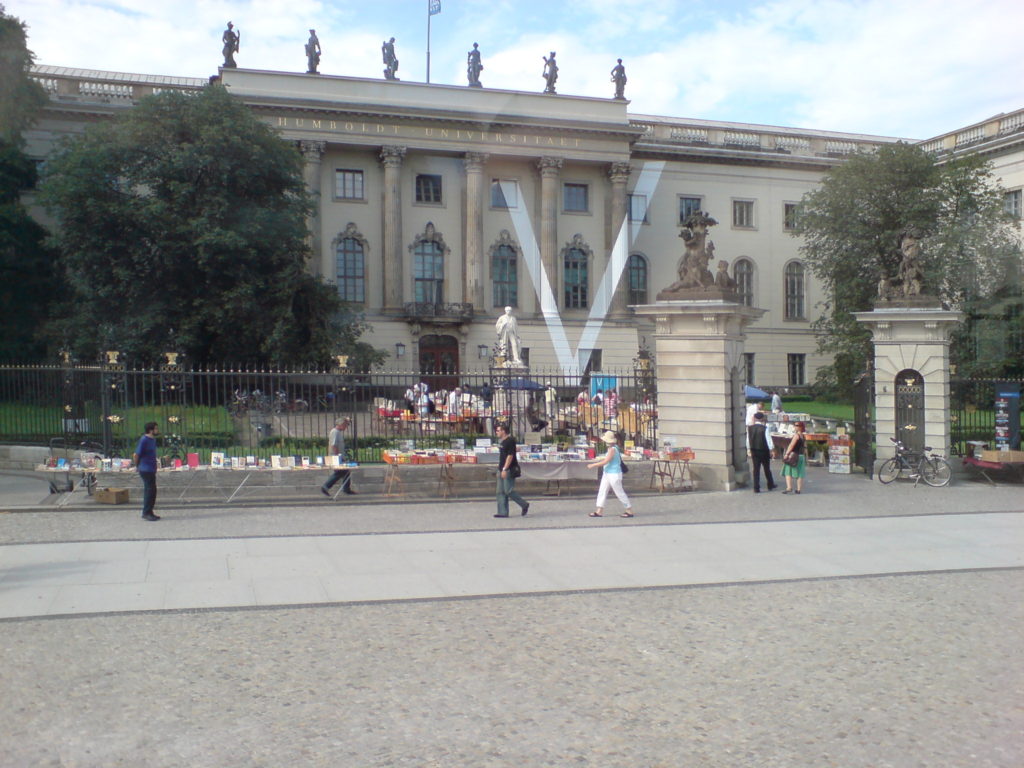 … and also to find out why it had a big V painted on the front of it. I think it was adverising some exhibition or another. Anyway, turns out it's one of the Humboldt University buildings, therefore it was locked. And that book sale wasn't there either. We crossed over the road, in the hope of finding something open, and while Chris and Jonathan took care of the map, I took photos…
Unsuccessful, we crossed back over the road, and noticed a sign saying "Kunst"… First of all, I thought it was a strip club for dyslexics, but it turned out to be an arts and crafts market, though, it didn't take me long to be in my element…
I didn't buy anything at this point, because there was no way they'd survive in the suitcase, and I didn't fancy carrying LPs all the way through on hand luggage. I'd already had that Herbert Groenemeyer CD, so I was more then happy to spend only a few minutes looking through these, especially as they were expensive. Chris found joy by searching through some old print stamps… one of which he'd pay €20 for later in the day. The craft fair ended after about 20 stalls, and we followed the road round until we came to something more like a traditional flea market affair, selling CDs for cheap. €1 each. Happiness! I ended up buying the Gladiators (yes, GladiatorS) soundtrack, and a song called Highland, by Swedish band "One More Time" (Wiki), which are of no musical relation to Swedish band One 2 Many. Apparently.
Another stall sold 7″ singles, by far my audio format favourite. I picked "I promised Myself" by Nick Kamen – a song which I'd heard originally in the Hartlepool shopping centre, at about 8AM in the morning before the shops even opened. But that's a story for another day. I also bought two others which aren't really worth mentioning, as they were simply ro replace scratched copies of records I already had.
Either way, I bought these records, and it looked like it was about to piss down, so the next step was to find a cheap umbrella that we could all share. And, there was indeed a store that sold umbrellas. Wooo. So, for €6, we ended up with the shoddiest looking umbrella you have ever seen, with holes in to complete the job. Ironically, about 30 seconds later, the rain stopped, so it wasn't much use anyway. We returned to the hotel, and I dropped off my musical delights.
Within seconds we were back out of the door, and heading back in the same direction from whence we came, but this time omitting the KunstMarkt, or whatever it was called, and headed over the bridge to the other side of the river. We had a quick look around the Berliner Dom, an architectually stunning building….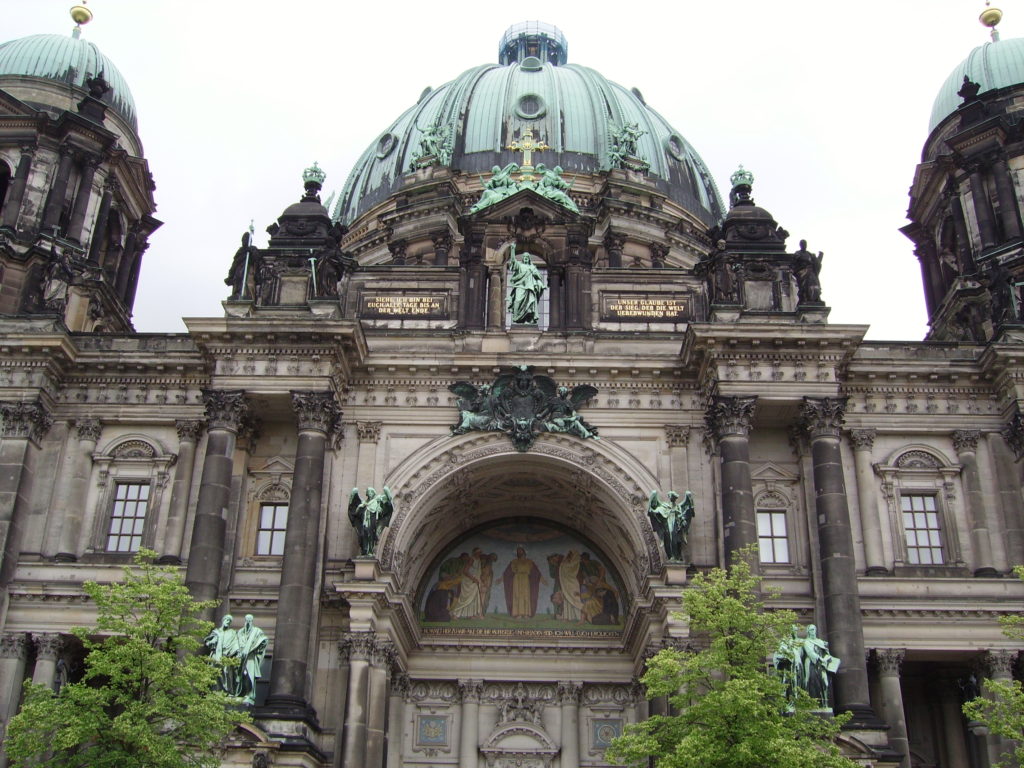 The next stop was the DDR museum – a museum showing the way of life in the old East Germany, including a real-life trabant…
Chris was more than excited at the sight of an old model kit he used to have as a kid. I also managed to get a shot of the traffic lights which are all over the city. For some reason, they're a lot more "jolly" than the ones we have over here. The green man has a hat on, and he looks like he's all set off for a bloody good stroll…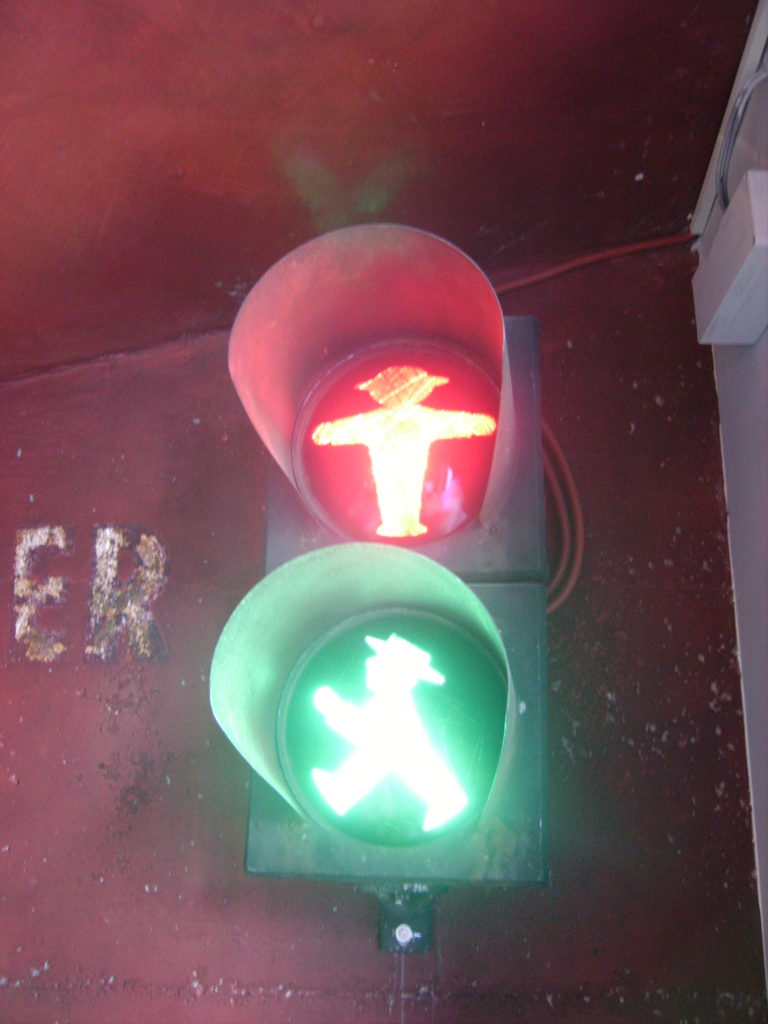 Classy. By this time, it was mid afternoon so we headed back out, in the search of some "luxury" items to take back. I ended up getting a pen, a t-shirt, and some…. strange thing with little gold coins in it. It was all a terrible waste of money, but it was better than lots of useless Euros bashing about in my wallet.
It was getting on, so we returned back to the hotel, and began the tedious task of packing our belongings away. This was relatively straightforward for me… everything liquid based went in the bin. Everything else went in the case. I travelled light in all honesty, so I was finished within an hour or so. Chris and Jonathan took slightly longer, as Chris had to work out how to pack two boxes of chocolates without them getting shattered or melted.
Eventually, we were finished, and headed off out just one more time. Unfortunately, it looked like it was about to absolutely piss down….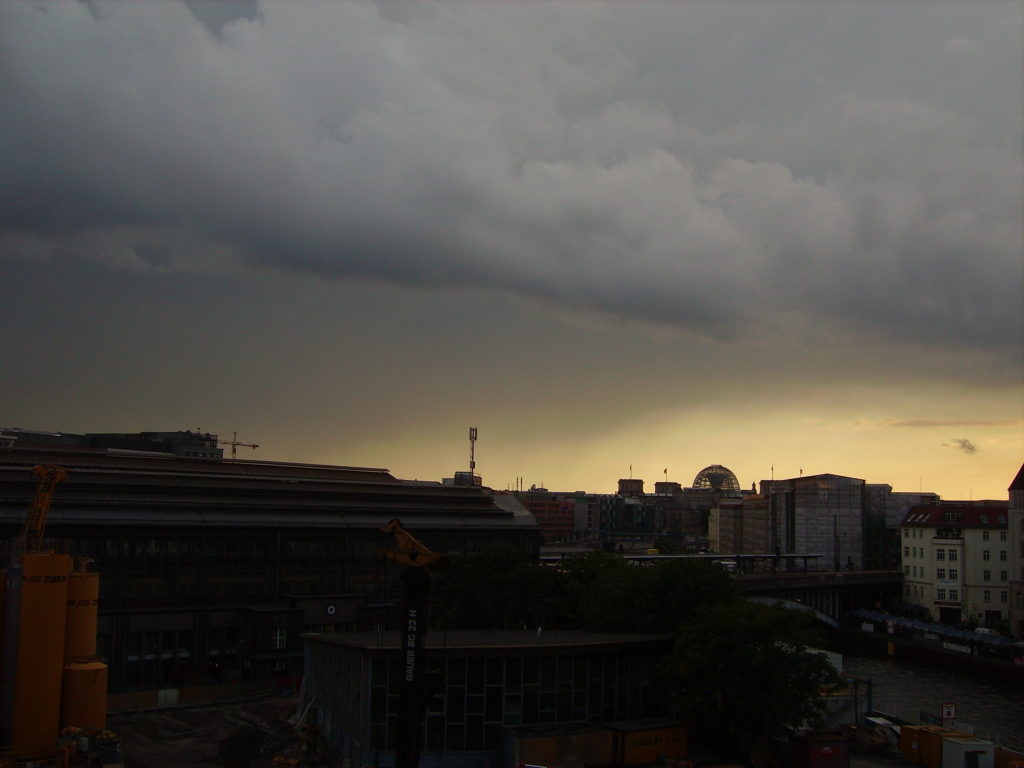 This was around the same time that the last of my electrical items went back in the case, so I'm sure you'll all be glad to know that there are no more big photos to look at.
So, we wanted somewhere not too far away, under cover… Have a guess where we went. Yes, of course… the INDIAN. I just had to have one more German curry. Even Chris went for the Madras.
Before the main meal, they left these poppadom things I've never seen before. They weren't just normal poppadoms, but they had some stupidly hot flavouring to them. I was in *love*. Unfortunately, I don't know the German for "What were those hot poppadom things?" so exactly what they were will remain forever a mystery. Bugger.
The meal was consumed, and I was as happy as a pig in shit. I'd somehow survived a week where I didn't know the food, didn't know the language, and more importantly, I learned that there was more to a trip away than just finding the nearest Gregg's….
The finale of the night was spent back at the Berliner Republik…. the place where we'd spent most of our mornings getting stocked up on pretzels and Currywurst. This time, we sat inside, and tried out something which wouldn't be allowed in England… beer trading.
To put it bluntly, Beer trading means the prices of the different beers change every 6 minutes, up or down, depending on some unknwon factor.
I was down to my last few Euros, so I was taking this beer trading thing seriously, sipping my pseudo-pint slowly, until the price of the beer I was drinking changed. I watched the screen… Oooo! My preferred tipple had went down from €3.70 to €3.50… GREAT! I quickly call a waitress over (easier said than done), point at my glass, she takes a note and then disappears off to fetch the beer.
The clock slowly counts down, with no sign of the beer…
4 minutes left before the price change… then two minutes… one minute… thirty seconds… five seconds… DING! The prices change.. aaaand, my beer's gone up to €3.90.
Seconds after the price change, out pops the waitress… surely, I'd only be charged the €3.50? No 'king way. The receipt said €3.90. At that point, I just totally lost interest in "beer trading", which is clearly just a rip-off. I didn't feel like drinking anyway, as I was completely stuffed from the wonderful curry I'd eaten earlier. It was about 10:30 by this point, and we decided to move on… except everywhere else was shutting up. It was like a ghost town. The bad weather had held off, so that wasn't to blame. It was just all very eerie and quiet.
We walked back to the hotel, crossing the River Spree one final time, and we headed into the hotel bar for one last drink of authentic German Pilsner, knowing it would be one hell of a long time before I would ever come into contact with it again. Sob.
We left the bar, and returned to our respective hotel rooms for one last time, knowing that there was a 600-mile journey back to blightly in front of us the next day… I awoke, at 4AM, with the biggest case of the shits I've had in years. I have no idea if it was the curry or the beer. I'll steer clear of the details, but this went on for two hours. It did give me a chance to take some last photos out of the window. It was amazing how quiet and still everything was at 6AM in the morning.
Eventually, I got back off to sleep and awoke at 8AM, to find one of the machines on the building site completely ruined….
Chris said there was one hell of a bang as it went over. Somehow, I slept through it.
The last of the packing was done, I double-checked, and triple checked everything, and jumped into the taxi for the journey back to the airport. The taxi driver was the most miserable bastard in the whole history of the world. The only words he spoke (with the exception of expletives and horn-sound) was "AIR BERLIN???", as we approached the airport. Not understanding him, we all nodded politely and said "yes", suddenly realising that Air Berlin was the name of one of the departure gates. But it was too late. The driver huffed and puffed, like I'd just taken his toys away, and eventually dropped us at the airport. The total cost was €18. I gave him 20. The bastard didn't even give me any change.
The airport was the same rigmariole as before, only I knew what to expect, so it was even more boring. We get a drink, then check in. Our bags disappear to places unknown, and we sit around, waiting for the plane to turn up. Oh, and I bought some duty free, namely a box of Dime (I refuse to call them Daim) bars, and a 500-gram bag of Haribo cola bottles. Larvely. No alcohol, though. I was disappointed in myself.
Eventually, the plane turns up, we board, and the journey starts. I didn't have a window seat, so I studied the on-board literature. A lot. Though, there could only be so many times I could read about fastening my seatbelt before it came tedious. Sandwhiches were passed around. they had a wonderful choice of two (count 'em! TWO!) types. Salmon and something, and Cheese and something… I passed, but did take up the opportunity of having a nice, cold refreshing can of beer. After all, it was 11AM by this point. Erm.
So, we land in Amsterdam. The weather was better than it was on the journey there. No chance of any delays THIS time. Once again, we go through the usual security checks… empty pockets, take off belt, blah de blah. Now I'd managed to get through three of these things, surely I'd be able to get through the fourth…. No.
It beeped. The whole thing lit up like a christmas tree. What the fooch?
"Step to one side, sir"… said some balding, middle aged bloke.
"Do you mind if I search you?".
"No, of course, not", I reply. After all, what were my alternatives? I really didn't fancy the ol' "rubber Glove" treatment, so I let him do his thing. Thankfully I was free to go, though I was still unaware of what made the machine squeal. Maybe the can of beer I'd drank contained a shiny penny? I will never know.
The journey from Amsterdam back to Newcastle was even more boring. Chris and Jonathan were on one side of the aisle, I was on the other. I couldn't even see out of the window, without looking over everyone else. Shite. The only reason it's worth mentioning is that I had another can of beer.
Upon my return back to the UK, I switched on my phone, to find that Daddykins was picking me up, and waiting in the car park, which eventually cost him £6. the final stupid expense of the trip. The A1 back home was completely blocked by an overturned lorry, which shed 18 tonnes of cable over the carriageway. This led to a detour around the suburbs of South Tyneside, and getting lost about three times.
And that, is it. The end. There is no more. Actually, there's lots more, but I thought that after three weeks of typing this holiday up, I'll draw the line here and now. I shall conclude by posting Youtube links to the video I made while I was there….
Day 1… http://uk.youtube.com/watch?v=fJRuIbhX260 (Incomplete due to a tape fault)
Day 2 part 1… http://uk.youtube.com/watch?v=MIbDSfEkrIg
Day 2 part 2… http://uk.youtube.com/watch?v=fYhQZ95Vw78
Day 2 dart 3… http://uk.youtube.com/watch?v=2Tg6gE1EQjo
Day 3… http://uk.youtube.com/watch?v=1k4ozi1bcTc
The rest of the days coming soon, including the zoo footage…
Now I can get back to talking about other stuff. Wooooo.