I'm happy to report that the disks were handed to the guards at Mercuryvapour Towers, and not just thrown over the portcullis. I now have in my possession 100 floppy disks, Woohoo!
I rushed hurriedly upstairs, with my precious cargo under my arms. I ripped the cellophane off, to be confronted with a nice neat cardboard box with "MISC BACKUPS" written on the side. No signs of mould / damp. No smell like they'd been rotting in a pool of water for 20 years. Things were looking promising
The sellotape holding the box shut looked like it had been there for a long time. This was a good sign. Someone had clearly backed these disks up, then filed them away. I guess it meant that they hadn't been touched, and had data on them.
I was even more impressed when I opened the box. 10 neat boxes of 3.5 floppies. All of the same make. I was even more impressed when I opened the disk, and found that each disk had a protective sleeve on them too! I couldn't wait to try them. Each box even had a little label on them saying what was in there…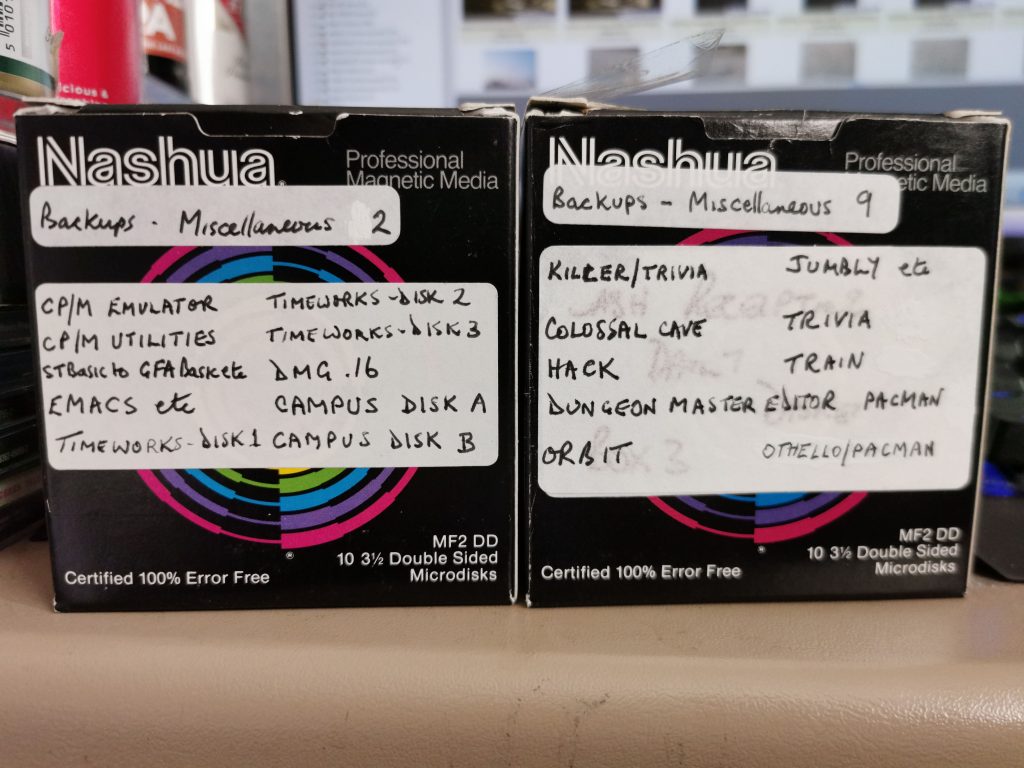 On goes the PC. The Greaseweazle lets out a little squeak as I stuck the USB cable up its grundle. We were good to go.
Firstly, just a random disk. Just to make sure it was all going to be working. Everything sounded perfect. Not a single unexpected noise from the drive. These disks were perfect. time to fling it into hxc and take a look what's on them…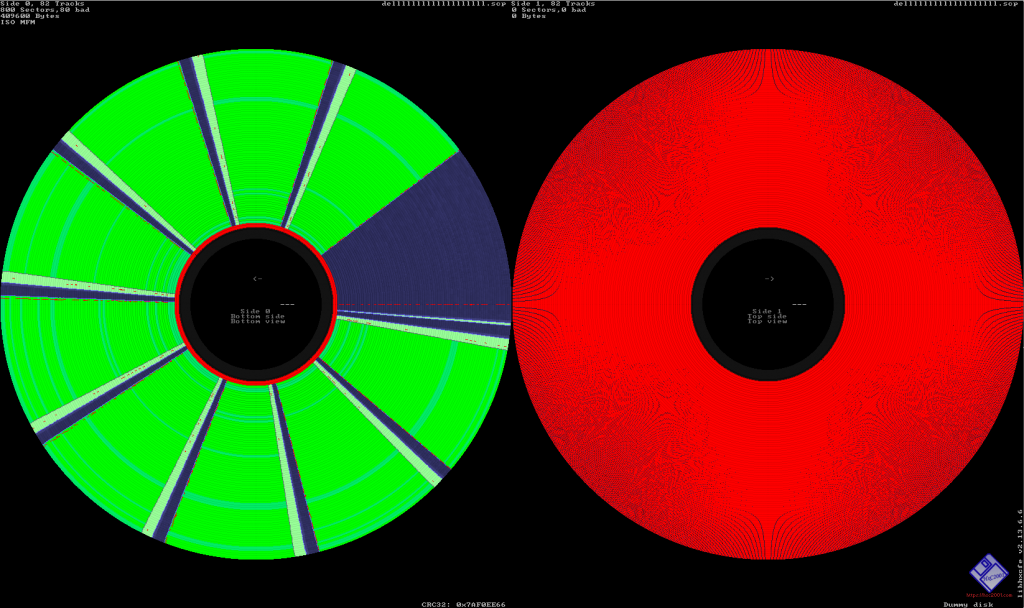 Waaaaaait, what? Why does that disk look like it's only formatted on one side? Was the drive dead? I stuck in my test disk, and it came back fine. Both sides read correctly. I'd noticed that it had actually recognised the disk as a 360K formatted disk. I didn't even know this type of thing existed. One thing had became very, very clear… These disks waren't going to be reading in my Amiga emulator any time soon.
I read a couple more. These came back as 720K disks, so I checked the files. They might still be of use if they had PC compatible stuff on them…
***** EASY TEXT v 1.23 from zzSoft *****
This version of EASY TEXT is suitable for high res AND medium res
ATARI ST'S.
Oh, well isn't that just effing marvellous. I now have a nice box of 100 disks that are only useable in a computer I have absolutely no interest in owning or emulating. Well, there's my night's entertainment (and £30) down the bloody kermit. I suppose I could still image them and stick them somewhere. Don't know what I'll do with them after that.
So, this post is a lot shorter (and infinitely more disappointing) than what I was anticipating. Still, some you win…
FOR SALE: APPROX 100 ATARI ST DISKS…. anyone? £31?