So, the world and his dog can't have failed to notice I've been out of Hartlepoolland for a few days. I wasn't meant to be going until a couple of weeks ago, as Daddykins was meant to be going, but he dropped out at the last moment. There was a group of us who attended, 15 in all – members of the club I attend on a Tuesday night (when I'm not at Employment Palace).
I got a taxi at 8AM, picking Chris up on the way (he's also one of the 15 members), dropping us off at the bus stop outside of the college at about 8:10. The coach wasn't due until 8:30.
At approximately 8:45, the coach finally turned up. We boarded, and headed off around the North East, picking up other eager tourists ready for the trip. As soon as the last one got one board, the driver finally introduced himself via the microphone. After the formalities were dealt with, he said something like "So, you're off to Nottingham… may I ask… why?"
I can't remember his name, but he shall, from now on, he known as "Happy Harry". Considering we were only technically there for a night and a full day, it wasn't exactly heartwarming to have a bus driven by a cynic…
He announced there would be a stop-off in Derby. I won't bore you with the details of the journey there (or how Chris almost got charged £89 for a bottle of drink, two sausage rolls and a copy of Viz), as most of it was spent, drifting out of consciousness whilst chuckling at the articles in Chris's afore-mentioned adult comic.
So, we approached Derby. Imagine the scene, as we head along the road, only to be faced with red traffic lights, and a bloke peering out of his flat, stark bollock naked. I don't think he quite planned to be waved at by a group of "tourists" laughing their heads off. Of course, he backed away pretty sheepishly after this. Classy, Derby. Very classy.
Of course, Happy Harry then managed to take a wrong turning, meaning we got to see more of the centre of Derby than we needed to. He then dropped us off at what appeared to be a random bus stop, and said he would pick us up there. You want to know how random the bus stop was? Here you go… Linkage
Hardly suitable for buses, never mind coaches. It's pointing at the Babington Arms, which is a pub, just in case you're thick and didn't realise it from that link. Either way, it would appear that not only did we have a cynic driving the bus, it was a cynic with no sense of direction. Joy.
It was a Wetherspoons, so you know what to expect. It was also the place where the first photo of me got taken, shamelessly stolen from Facebook…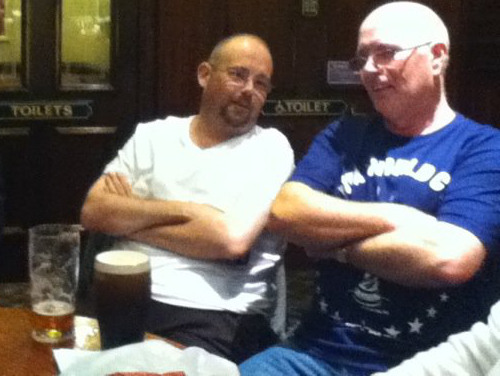 After two hours we were all ready to go and get set up at the hotel. Happy Harry had other ideas, as we arrived in Nottingham, circled the hotel, and then went in completely the wrong direction to find the entrance. His apology once again, came over the coach tannoy system… "What a bloody stupid place to put a hotel"…
After what seemed like an eternity sorting out the keycards, we made our way up to the hotel room. Thanks to some name juggling, according to their system I was called Barry. It shall stay this way for the entire time I was there.
Upon first impression, the room was excellent. 7th floor, two double beds. It even had two bathrooms which means two toilets. Therefore, any outfall caused by excessive vindaloo consumption could be kept to a bare minimum. Bonus. I recorded another stupid "wish You Were Here" style video, but it needs editing badly. The view wasn't the best. A call centre (complete with Aspect telephones) to the left, a car park to the centre, and other modern buildings to the right…
After dumping the bags, and getting a bit of a cleanup, we headed off looking for a bite to eat. Close friends and relatives will know that I scoured Google Maps to see if there was an indian nearby. Not one, not two. Not even four. there were SIX within spitting distance of the hotel. Unfortunately, most were expensive, and were shut. We were inspecting the menu of one of the couple of open ones, a place called "Chutney". One of the waiters came out and thrust a 20% voucher into my paw. This was looking tempting. Actually, I lie. With that little piece of paper in my hand, my mind was already made up…
It was exceptional. Food was great, staff were friendly and yeah, the discount stuck. Happy days.
The same, however, can't be said for the hotel bar. The Blackpool trip featured entertainment in a root big enough to be used as a conference centre. Fair enough, it wasn't top notch entertainment, but it kept us sane, and the beer was acceptable for hotel standards.
That was Blackpool. This hotel's night facilities consisted of a tiny room, Entertainment came in the form of (wait for it) 6 games of bingo, should you choose to pay for it. If you didn't, you just had to sit there and drink your "free bar". That is, if you like watered down beer. I had a bit of toothache, and was on a full stomach, so I thought it was just me who thought it was as weak as kittens. Thankfully it wasn't.
Disappointed with the free bar, we headed out into the city, eventually settling in the Roebuck Inn. It seemed pretty quiet, and that name "Wetherspoons" cropped up again. I introduced Chris to Jaegerbombs, which he didn't enjoy. He introduced me to something stunning. Don't ask me what they call it. It was apple juice and some newly available cinnamon liqueur. I DID enjoy this. I have no idea how he found it, but he knows of my love for apple and cinnamon. Therefore, the two combined in some kind of alcoholic beverage was out of this world. Towards the end of the night I remember having a good crack on with the bar staff. It was this place that made me really begin to like Nottingham.
Day 2 was only a sleep away…