Yikes… it was a weekend, though it didn't exactly feel like it. We had 24 hours of our "City Tour" ticket left, and there were still so many places left to see. This day was a relatively early start for me, with the first image being taken on the camera at 9:20 AM.
Now knowing that my wallet was running on vapours, my task for the morning was to find a working cashpoint. This was a city, so it couldn't have been hard. Jonathan mentioned there was a cashpoint on the station a few yards away. Great! That's that sorted. I look, and I look, and couldn't find a thing. I did, however, find a supermarket selling the necessities (drink, but not of the alcoholic kind.. apple juice and coke). I decide to walk in a northerly direction up Friedrichstrasse, in the hope to find a cash point. I fail miserably, on my first visit. On my way back down to the hotel, I notice some woman walking into a glass fronted building. I have no idea what it was, but it looked like it might have been a bank.
I had nothing to lose by following her. I walk into the building and fall to my knees. SEVEN CASH MACHINES. ALL THE COLOURS OF THE RAINBOW. Ok, that's not strictly true, but there were indeed seven of them. I was delighted.
I watch some guy finishing up with his transaction, and I decide to use his machine, as it appeared to be working correctly. I insert my card, and… nothing. It wouldn't even take the card. Surely, there was some mistake. I push that little harder. Nothing. I was ready to cry, but then I look at the little diagram on the card reader… it needed to be inserted strip-side-up. How odd is that? This time, the card was accepted, and thankfully, I was able to get some funds from it. I return to the supermarket I'd found earlier, and purchase the apple juice, and some strange cola drink. It was called Vita-Cola It's totally uninspiring. Sorry, I really didn't like it much at all.
By the time I returned back to the hotel, I knocked on Chris + Jonathan's door. They were already awake, so I told them of my great discovery – cashpoints and reasonably priced soft drinks. With only two days to go, they were hardly enthusiastic, but I was happy anyway.
Anway, the plan was to go to Spandau to see the prison. There was an unknwon delay which meant we didn't set off until around Midday. Maybe we went for breakfast, maybe we didn't. I have no idea. I don't think we did.
Anwyay, by this time, despite our problems with the trains over the last couple of days, we had got the hang of it, and even knew the station where we needed to change to get to Spandau. This, however wall Chris and Jonathan's doing, as I still didn't really have a clue. We boarded the train, and I spent the next 20 minutes in geek filled heaven. Actually, no, this is more of a nerd thing. Skip this paragraph if you're not interested.
Inside the carriages are scrolling LED display boards which tell you where the next station is, so you know where to get off. They don't appear to be anything special. 5×7 font, green LEDs. The one above where I was sitting would begin to show the station, then crash, resulting in a SELFTEST message being displayed. It struck me later on in the day where I had seen it. Someone else (a total stranger) on flickr had posted an image of an identical display doing the same thing. Woo!
OK, so onto Spandau. We get off the train, and land in a market. It was just a normal market, however, with nothing special on offer. Just the usual fruit, vegetables, meat, etc. The whole point of the trip was to go and find Spandau prison. Except it wasn't marked on any of the maps, so we didn't know if we'd even be able to find it. We walked up a row of shops, similar in appearance to the ones we experienced in Potsdam.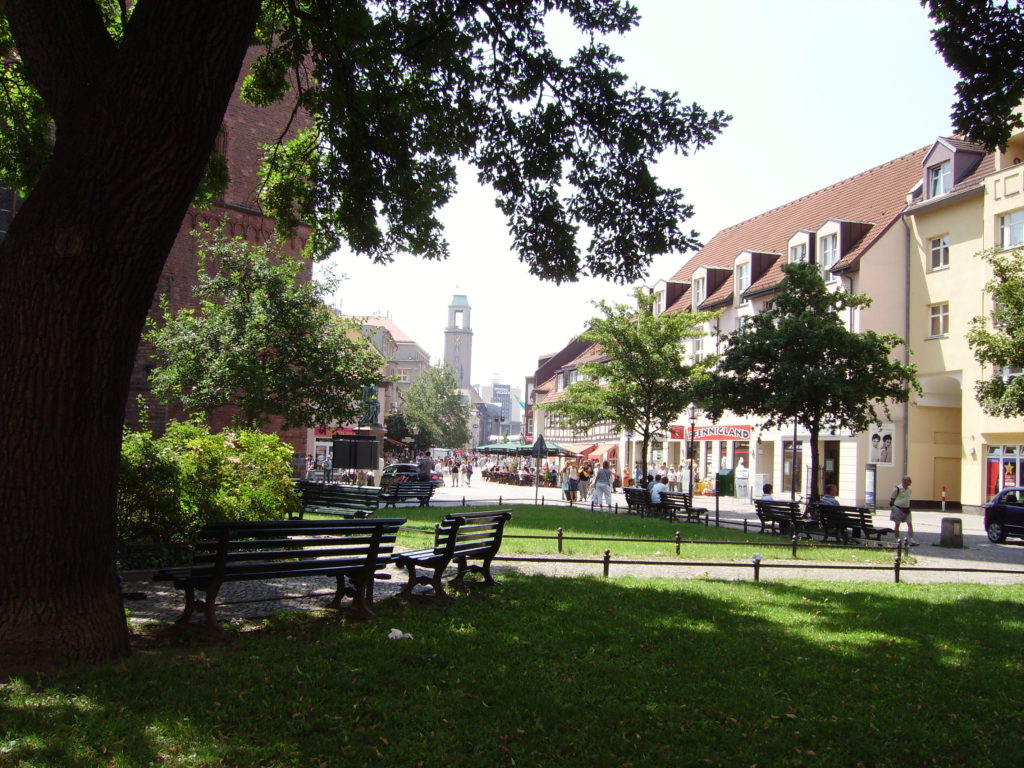 This photo was taken at the end of the road, where again, there was a church. It must be a common feature, main shopping parades have churches at the end of them. Odd.
It appeared there was a wedding or something happening at this church, as there were a lot of people roaming about, all dressed up. There was a display of some sort in the church, but we didn't go in incase it was cancelled because of whatever was happening. Instead, we walked around for a bit again.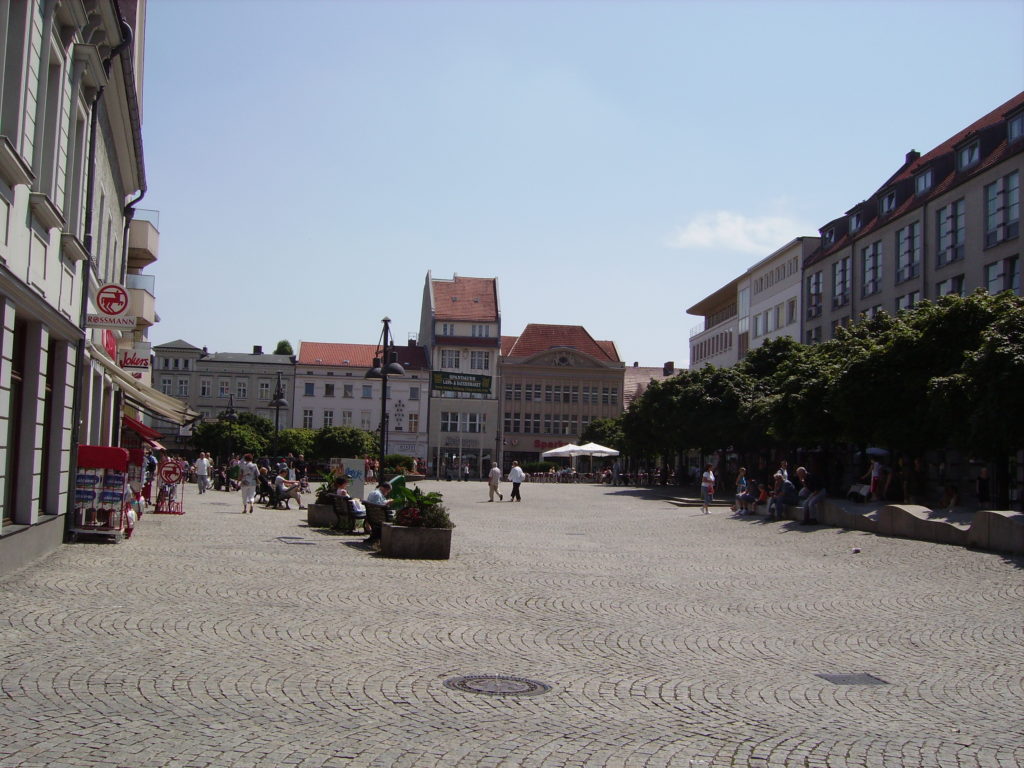 At this point, I spie a Woolworths! Or rather, just Woolworth. We couldn't resist a look in, to see just how different it was. Naturally, I went over to the CD section… basically, about 1 foot of shelf space. They didn't seem to be big on music over there. I spied one CD there, which I just had to buy… Through the Barricades, by Spandau Ballet. I can claim to be one of the few people in the entire world to have bought a Spandau Ballet CD from Spandau. I will now wait until the fateful day, years down the line, when someone flips through my CD collection, spots it, and asks where I bought it from. I shall reply with Spandau. And they shall go "Wow". And I'll be like, "Yeah, I totally did". And they'll be like "NO WAY!" And I'll be like, "WAY!"… And, I appear to have gotten stuck in a 1990 loop.
Other things purchased at the Woolworth store were a packet of Big Red Gum, which I talked about briefly in another post, two Daim bars, mainly to see if they tasted any different over there, and some spare batteries for my camera, just in case I needed them.
We walked back up the street towards the station, and passed underneath it towards a large and impressive looking shopping centre – The Spandau Arcaden, which looked like it had just been built 15 minutes ago. There wasn't exactly a wide range of shops in there, but at the end of one floor was a stupidly large supermarket. I forget the name of it, but it was enormous. Outside the store were boxes full of CDs for sale. I couldn't resist a flick through them. One thing I don't think I've mentioned, is that I also travelled to Germany to purchase a song. Just one song. "Manner" by Herbert Groenemeyer. After viewing every CD on sale, I didn't find it. Shite. There was only one day to go.
I didn't go home empty handed, however. I purchased the greatest hits of Albert Hammond for €3, for the song "The Free Electric Band". We all had a Maccy D's to see if it tasted different over there. Apparently, the burgers were greasier, but the chips… sorry, fries, were just as acceptable.
We had seen the sights of Spandau, and so we headed back. Two things I learned while typing this entry is that "The term Spandau Ballet referred to the spasms of the Nazi war criminals as they "danced at the end of the rope", when they were hanged at Spandau Prison." (source: wikipedia, so that's probably wrong), and that Spandau Prison was demolished after Rudolph Hess died. So, no matter how much we searched for it, we'd have never found it. It was just over a mile from where we were anyway.
The trip back was interesting. The train seemed to be full of beggars and vagrants. This seemed odd, as we'd hardly seen any in the whole of our time there. Some guy hopped from carriage to carriage, changing each time the train stopped at a station. Unlike most of the trains here in the UK, you can't walk between carriages. There were also beggars at the station, and a pack of cheeky beggars on the bridge near the hotel…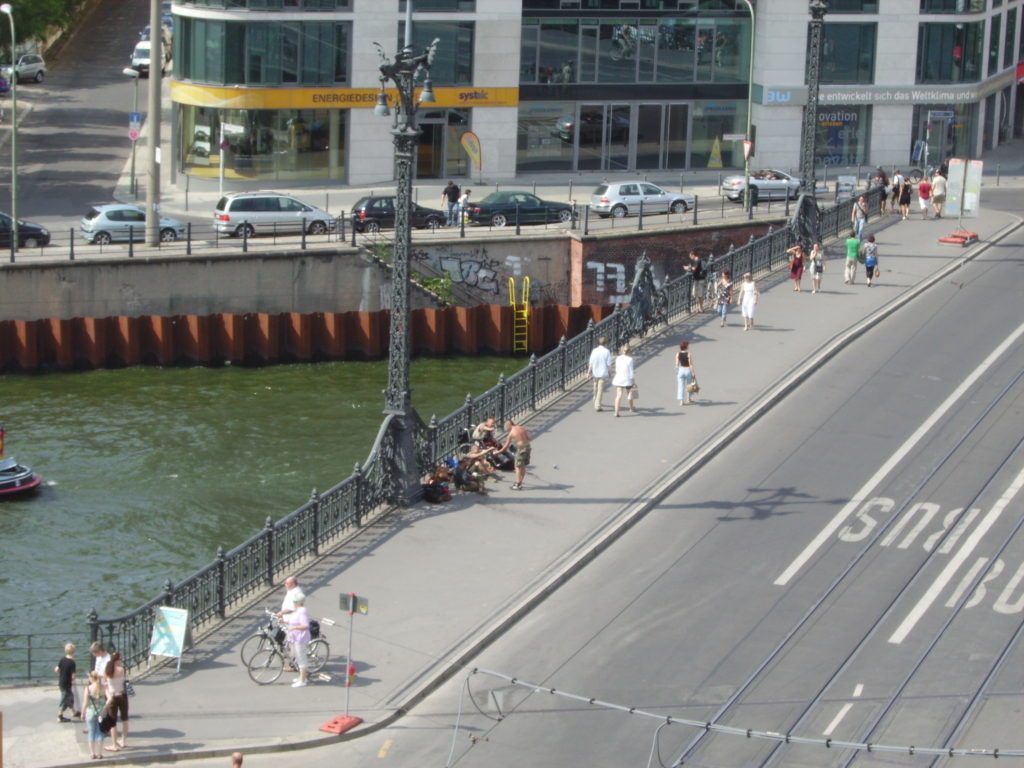 The mad looking one standing up with the mohawk attempted to intimidate people by walking right up to them and asking for spare change. He tried it on Jonathan and got told to fuck off not-so-politely. What isn't in this picture, however, is that there were another load of them on the other side of the road doing exactly the same thing, all part of the same gang, as they would both put their ill-gotten gains into one kitty. This was the only time they were there.
At this point, Chris wanted to head off back to Checkpoint Charlie to get his passport stamped. If you pay €2, you can get it stamped with the Checkpoint Charlie logo. I was a bit tired, so I retired to the hotel for a bit of a lie down while he went up there and got it stamped. He returned quite a bit later, but with his passport successfully stamped. I'd have thought that would be illegal, but nope, it isn't.
I livened myself up rather unspectacularly. I'd taken a huge swig of apple juice before I laid down, which only seemed to ferment in my stomach, making me feel like I was about to throw up for about half an hour. Unfortunately, this half an hour consisted of a ride on the underground system, and then 15 minutes, in he hottest train I have ever been in my entire life. The sweat was dripping off me, but luckily, this caused the fermeting apple juice to be absorbed into my body so I didn't feel sick anymore.
Our destination was the KaDeWe – the German version of Harrods, though we didn't know it at the time. We walked through the doors into a marble hallway, with watch manufacturers either side, with prices ranging from €1,000 to €WTF,000. I felt a little out of place, walking around in my £4 Matalan T-shirt. We started on the top floor and worked our way down, as it was about 6PM, and the store closed at 8PM. The top floor was a restaurant / bar. No interest there, so we moved down into the food section. It had everything. And when I mean everything, I mean it even had a fish counter that I could actually walk around without borking my ring up. It's the first place that sells fresh fish where I could actually breathe the air. Now that's a sign of a good shop.
Of course, there wasn't just the fish counter, there was everyhing else from bread to ornemental bottles of rice vinegar. We did spend a bit of time here, especially in the confectionary section … Chris bought the sugariest cake of all time (more on that later), and I bought some pressies. It came to something extortionate, but at least they allowed me to use my card.
The floor below it was the technology section. Large CD and DVD selection. Obviously, the DVD's would be in German, but the music section should have that CD I was looking for. After about half an hour of searching though the G's, I finally strike gold…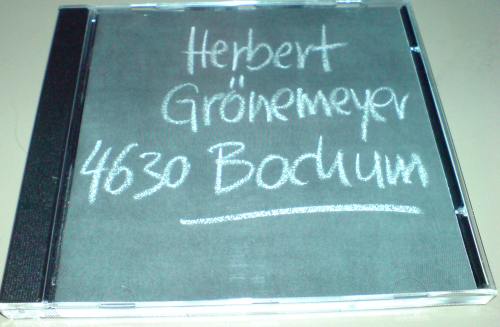 The store had a very interesting computer system which allowed you to scan a barcode, and hear the appropriate CD via email, just to make sure it was the one you wanted. A quick scan later, and there it was… Manner…. Track 2.
I don't know why I like the song so much, as I can't understand a word of it, but I "knew of" it, thanks to someone in #speccy. While at work, months aro, the German language speakers were streaming some unknown German radio station via the interwebs. All of a sudden, 'Manner' came on. I jumped out of my chair, stood upright, pointing at the speakers, shouting "I KNOW THIS ONE!"
I don't know whether this made me like it more or not, but it certainly didn't harm my opinion of it. As far as I was concerned, I was holding his CD in my hand. This was my biggest wanted souvenir of the trip, and although I knew it would cost €18.99, I knew that if I put it back on the shelf, I'd be horribly disappointed in myself. Therefore, it was bought, and although it was probably in the top 10 of the most expensive CDs I'd bought, it would be money well spent.
We walked around the store, mainly gasping at the price of everything… my personal favourite was €300 for a 1Gb USB stick… it was clear, anyone who bought that must have a very small cock.
The last main stop was the men's clothes section, just in case there was a bargain or two to be found. There wasn't anything close to being a bargain. I think the cheapest thing I saw in there was an ugly green polo shirt for €25. Eveything else was closer to the €100 mark. There was no way I was even coming close to spending that amount.
After that, we left, and decided to head back, so we could get something to eat. We remembered how bad the underground was, and luckily, I noticed a signpost, pointing to the zoo, some 800 metres away. This was good, as we knew the station. We set off, and begin to head off into the suburbs. This wasn't looking like it was the way to go. Eventually, we turn back, and come to the conclusion that some jokers had turned the signpost around. We complete a full circle, and end up back where we were originally. Walking was for losers, and seeing as our train tickets were also allowed on buses, we got the bus to the station.
This time, we knew exactly where to go, and boarded the train back to Friedrichstrasse. The beggars hadn't let up, and were still roaming the carriages. Dark clouds were beginning to form overhead. Could this be rain?
We get back to the hotel, and begin to devour Chris's cake, and found it more sugary than any of us had possibly imagined. I devoured the licorice bits on top, which weren't really licorice, they tasted like cherry cola. I think I was the only one that liked them.
The main cake itself wasn't made out of marshmallow as originally thought, instead it was made almost entirely out of sugar. Hard sugar. Chris began to attempt to eat it, but didn't even break the surface until the sugar rush was too much. We headed out for some fresh air. Chris noticed, that while he was wandering around the hotel, it had a terrace…. or rather, a roof section that was accessible. I have no idea whether we were supposed to be on the roof or not, but opening the door didn't set off the fire alarm. Naturally, I used this as an excuse to take more photos.
It started to rain, so we headed back inside, and got changed for the night. The penultimate night saw us back at the Argentinian steak house, where I had burger and chips. Jonathan had the same (I think), and I have no idea what Chris had. We all enjoyed our meal, and had a couple more back at the Kartoffelkeller, before retiring to the hotel, and having one or two there. Jonathan didn't join us, however, so me and Chris stayed and had a couple more, before calling it a night.
Only one more day to go.